I just love linky parties!!! I was blog browsing this morning and came across this one from
A Teeny Tiny Teacher
. I just couldn't wait to participate, so here goes!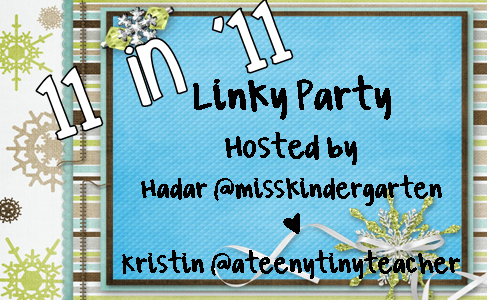 11.
Favorite movie you watched
Harry Potter and the Deathly Hallows-Part 2. Ok so many of you will say 'what a dork' but I don't care! I LOVE this series and have read all the books many times and plan on doing a huge unit this spring with the first book. Look for that unit to be up then!
10.
Favorite TV series
I have 2 favs, is that ok?!?!?! I am obsessed with two new shows on right now. The first is Revenge. I am so hooked on this one that I watch it on hulu when I'm not home to watch! I also am loving PanAm. I always make sure that I get a Sunday nap and all my work is done so I can watch it without distractions!
9.
Favorite restaurant
My blog wouldn't be what it is without my favorite Mexican Restaurant, Los Arcos! The offer my favorite special of the week, $1 Taco Monday!!!! Our group has grown to over 10 people on some Mondays.
8.
Favorite new thing you tried
Mine has been blogging. I am part of a technology leadership group in my district and one of the requirements was to begin and maintain a blog. At first I was a little hesitant, who would want to read what I have to say! But as I have gotten into, I love my blog and bloggy friends!

7.
Favorite gift you received
My hubby got me a Kindle! I didn't even know I was getting it and am in absolute heaven with it!
6.
Favorite thing you pinned
It would have to be the Owl things for my twins first birthday party. It wasn't one pin, but a whole board of all things owl! I loved finding cute ideas and making them myself.

5.
Favorite blog post
My favorite post had to be when I began teaching without our Reading Anthology! After learning about teaching this way, who wouldn't want to change their teaching style. I get inspired each time I read it to be a better teacher!

4.
Favorite accomplishment
Deciding to pursue my National Boards Certification! It took me a long time to decide to dive into actually signing up, but I've done it now! Wish me luck!
3.
Favorite picture
My twin daughters, Raegan and Kenley, were born last December and this picture of us is my very favorite pic!
The babies were only 4 days old here.
Can't believe how tiny they were!
The twins 1st birthday party. The theme was 'Look Whooooo's Turning 1!' and it was covered with owls everywhere. It was a great celebration of the twins first year and of me and my hubby surviving and the twins being alive and well haha!
Raegan eating cake
Kenley eating cake and saying her new
favorite phrase, "Hey there!"
1.
Goal for 2012
In life: Our church sponsor an orphanage in Ethiopia and I would love to go on a mission trip down there to help people in that area. I also want to have less stress. My twins are the light of my life and I don't want to go around being stressed about the little things, when they don't really matter.
In school: I want to be more creative. I see all these fun ideas that so many teachers have and I want to get more creative juices flowing and crank out some of my own. I also want to meet more of my students needs instead of just doing enough to get by. I don't do this often but there are some instances which it is easier to just do something that is easy to be done.